For images and graphics, see the images below this text.
The First Oldsmobile Emblem 1897-late twenties

The florid crest including the "Oldsmobile" banner appeared on Oldsmobile's earliest vehicles including the Curved Dash.
The "Oldsmobile Script" Emblem 1900-1920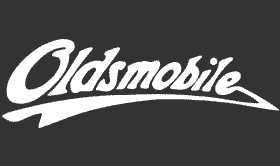 Literally the word Oldsmobile with an underscore from the end of the last letter.
The "Oldsmobile Oval" 1928-1930
Oldsmobile lettering filling an oval shape.
The "Winged Spur" Emblem 1920s-30s + various years

This crest included many elements symbolizing Oldsmobile's increasing prominence in the automobile industry. The winged spur at its center represented harnessing horsepower; the acorns acknowledged Oldsmobile as a seed that helped grow the automobile industry. Also included is the Lamp of Knowledge and micrometer and a triangle signifying research, exactness and precision. This crest would continue to be used on various models and hub caps.
The Winged Spur appeared on such vehicles as the 1934 Oldsmobile Six Touring Coupe complete with "trunk, built into the body." In 1939, Oldsmobile would introduce 1940 models with the industry's first fully automatic transmission.
The Elongated/Stylized "Winged Spur" Emblem 1936-1947/1958-1959
Similar to the above "Winged Spur" but elongated vertically.
The "Ringed Globe" Emblem 1949-56

With the new sheet metal and mechanical components of the late forties, the company symbol became a ringed globe with heavy emphasis on various rocket forms to express power.
This emblem appeared on Oldsmobile's first official pace car of the Indianapolis 500. The Series 88 was powered by the industry's first high compression V-8 engine, aptly named the "Rocket 88."
The "Rocket Emblem" 1960-1979/80

Buoyed by the popularity of the Rocket V-8, the rocket emblem became the company logo and adorned Oldsmobile's lineup as the division became the nation's number three auto seller in 1975.
Perhaps the most notable products to wear the rocket were the Oldsmobile Cutlass, which became the nation's best selling nameplate in 1976, and the Toronado, which pioneered a high-volume domestic front-wheel-drive system.
The "Rocket Emblem II" 1980/81-1996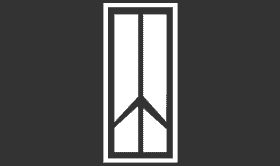 Little changed in Oldsmobile's logo in the 1980s, except the removal of the rocket's tail and the boxing-in of the logo. In 1991, an updated version was used with more rounded corners.
The "Modern Olds" Emblem

In 1996 the modern Olds logo began appearing in advertising, promotional merchandise and new car window stickers. The first vehicle to wear the new logo was Oldsmobile's redesigned 1997 Silhouette.
Designers of the logo (GM Industrial Design Studio) believed it should have a contemporary, international appearance. This led to a horizontally oriented, open oval shape incorporating the rocket heritage form, positioned at an angle, signaling a new direction for Oldsmobile. The rocket pierces the oval, suggesting Oldsmobile is going outside the boundaries -- beyond the conventional. The non-symmetrical shape of the logo represents Oldsmobile's originality and the distinctiveness of future products.
Click any images below for the larger version.
Classic Oldsmobile Logos
Modern Oldsmobile Logos
442 Logos
Special Oldsmobile Logos
Text/Script Oldsmobile Logos